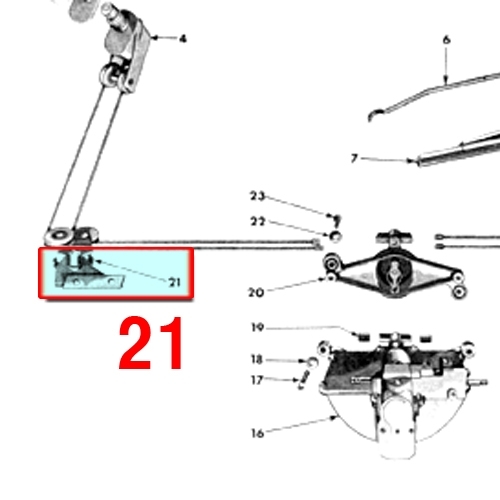 Questions & Answers
Hi Mike , got my driver side cable today. installed them. they are very loose compared to the passanger side. When I try to activatethe wipers the cable I just got from you falls off. I checked the tension spring and its moves the rollers about 3/4 to an inch with lots of power left in the spring. Is it possible that the cables are to long? don't know what to do. I am thinking that the 2 tensions should be about the same. Also I can't get the leather spacer on there is simply not enough thread to get the outside nut on. My concern is that it cost me more to get the cable here than what it is worth. Waiting to hear from you. Thanks Roy
Willys Jeep Parts Tech:
I would check the tensioners the go thru. Email mike@kaiserwillys.com to help.
I purchased the drivers side arm part # 81490-L and a new electric motor conversion from you recently. I can't seem to get the cables attached properly to have the wipers work as supposed to. I removed the passenger side arm and it is stamped 81489-R. It is free but now I am curious is to that not being a 81490-R as being my problem. Do you have an answer?
Willys Jeep Parts Tech:
Make sure you have the wiper transmission installed on the motor to attach the cables and the tensioners tight. Also they are LH and RH on the pivots/cables. Make sure those are set up right too. They are different.
I have a rebuilt wiper motor from your. It workd great, perhaps too good in that the arc of the wiper greatly exceeds the window and sometimes they cross and catch each other. Is there an adjusment? Do you just sell the springs that provide tention on the wiper, and I can't find a sutitable replacement? My springs are weak. Thanks
Willys Jeep Parts Tech:
Please call us toll free. We can help. Sounds like your cables may have been stretched going to the motor.
It shows that these and the tensioner arms are out of season. Will they be back in stock anytime soon?
Willys Tech:
You have to clean up your old ones currently and reuse.
I am looking for the cables only for the drivers side wiper. all seems to work with out issue but one of the cables is broken. do you sell the cables only?
Willys Tech:
We can restring your cables for you. Please call us toll free.