Clutch Service Standards - Truck
Clutch illustration shown for reference only - click here to shop for these parts by interactive diagram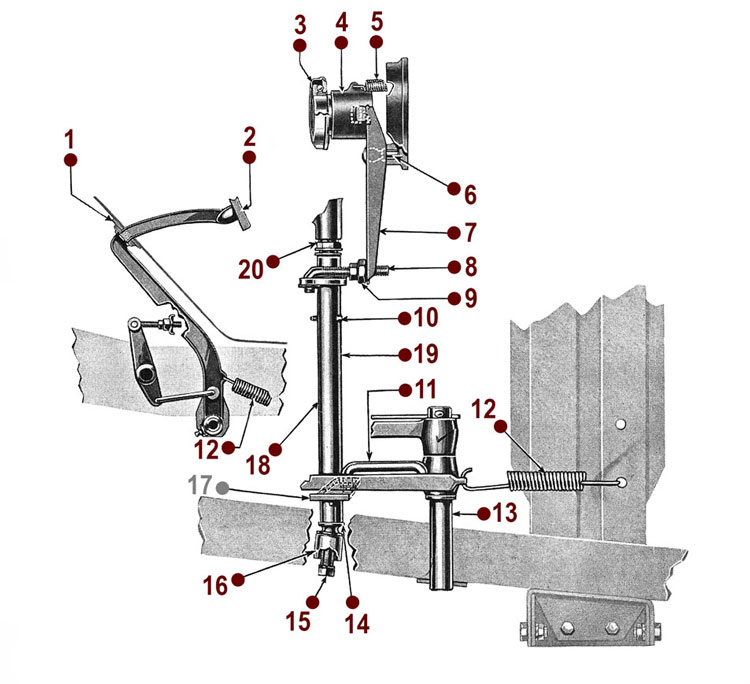 Looking for Clutch parts for your vintage Willys or Jeep? Shop parts by Category or by Diagram
General
All clutches are single-plate and dry-disc type. Models L6-226 4WD and 4x4 are equipped with a 10" [25,4 cm.] driven plate; Model L6-226 4x2 has a 97-1/4" [23,5 cm.] driven plate; all F4-134 Models have an 8 1/2" [21,6 cm.] driven plate.
Clutch Pedal Adjustment
As the clutch facings wear the free pedal travel diminishes. When sufficient wear occurs to cause the pedal to rest against the toe board it is necessary to adjust the free travel. Correct clearance on all models is 1" (25.4 mm.). This clearance is essential to disengage the clutch release bearing and prevent unnecessary wear and possible clutch slippage. When adjusted as outlined above there is a safe clearance of approximately 1 1/6" (1.59 mm.) between the clutch release bearings and the clutch fingers. After pedal free travel of 1" (25.4 mm.) is established, tighten both lock nuts against the adjusting trunnion, being careful not to change the adjustment.
Clutch Installation
Finally adjust the clutch control cable so there is 1 1/2" [38,1 mm.] free pedal travel.
* Learn about the clutch from the Service Manual for Jeep Utility Vehicles pages 155-157, 160
RELATED VIDEOS: