1955-1971 CJ-5 General Specs
CJ-5 Field Guide, Kaiser Willys Catalog - Request Catalog Copy or Download
Technical Specifications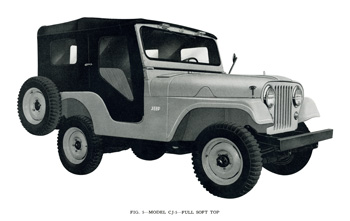 Length: 135 9/16"
Width: 71 3/4"
Height: (overall): 67"
Tire Size: 6.00-16, Front 26, Rear 28 psi
Electrical: 6 Volt, 12 Volt
Transmission: 3 speed T-90
Transfer Case: 2 Speed Dana 18
Front Axle: Dana 25, 27
Rear Axle: Dana 44
Wheelbase: 81"
Other: 1-Piece Windshield, Fenders curve down
Engine: 4-134 F Head Motor 1955-1971, V6-225 Dauntless V6 Motor 1966-1971
---
Serial Number Location(s):
Passengers side of dash (stamped on data plate).
Engine Number Location:
Stamped on a outcropping (boss) on the right front of the engine block behind the water pump.
Vehicle Identification
Main Identifying Characteristics:
Rounded front fenders, 7-slot stamped grille, heavier rounded hood, One-piece windshield with top-mounted wipers, windshield hinged to top of cowl, spare tire mounted on rear passenger side, defroster, glove box on right side of dash. Thicker, larger seats, 3" fuel filler cap, tailgate.
Model Differences by Year:
1961-1964 Tuxedo Park Mark III & IV were introduced for the CJ-5A and CJ-6A models. Chrome bumpers, hood badges, column shift, an indian-ceramic steering wheel and other accessories distinguish this trim package.