About Willys Jeep Pickup Truck - Jeep Specs and History
About Willys Truck
History and Technical Specs
(1946-1964) Willys Jeep Pickup Truck
Production Total: Over 200,000
Willys Jeep Pickup Truck Illustration
Willys Trucks are perhaps not nearly as well known as the ubiquitous and familiar "Jeep" (CJ Universal) or Station Wagon. Nevertheless, Willys did produce a number of different truck models, including the Pickup, Stake Bed, and Cab & Chassis models.
Similar to the Willys Jeep Wagon, and equipped with the same 134 cu in "Go-Devil" engine and 3-speed Borg-Warner T-90 manual transmission as the CJ-2A, the Willys Pickup Truck was introduced in 1947, available in both 2T and 4T models. The 4x4 "Jeep Truck" model had the same 118 inch wheelbase as the 4x2 pickup, and an identical pickup bed which was 79" (w) x 15.75" (h). The 4WD model was rated at 5,300 gvw, with a 1 ton payload. The three speed transmission and two speed transfer gave six forward speeds, two in reverse, and could be ordered with a PTO." [1]
"In 1949, the "Jeep Truck" emblem was replace by an emblem reading only "4 wheel drive" and a single bench unit replaced the 1/3-2/3 seat, which now tilted forward for access to undersea storage." [2]
In 1950, the truck became the "473" with the "Hurricane" 4-cyl engine as an option. Like the Station Wagon, the 473 model included a modification to the grille, which now formed a "V" shape in the center, and included the addition of 5 horizontal bars. [2] When this happened, the radiator attachment was changed from the chassis to the nosepiece. [2] Another change in 1950 saw the discontinuation of the two-wheel drive model. In the following year (1951), the 2WD 1-ton and 1/2-ton trucks were also discontinued, leaving only the 4WD models.
"In 1951, a few new body styles were added to the options list including the stake bed, a Flat Face Cowl model (FFC), and a cab and chassis option (no rear body). These options were available until 1964. Aside from this, and the changes for the new starter (bell-housing and flywheel), the 1951 trucks remained very similar to the 1950 and 1952 models." [2]
In 1953, the 473 became the "475" and the number of horizontal grille bars dropped from five to three. The 475 did not last considerably long, and was available only until the introduction of the 6-226 model in the following year. The 6-226 model, with a 226 cu in 6-cylinder "Super Hurricane" engine, continued in production through 1962, when it was replaced by the 6-230 Tornado OHC engine. One more change was notable in 1954, which was the addition of a large window in the back which essentially covered the cab of the truck.
"1955-1958 saw very little changes, with a few modifications to the center grille bar location, and conversion to 12-volt electrics, until 1959, when a chrome strip was added, running from the edge of the hood to the trailer edge of the door. While this new strip adopted a style similar to that of the station wagon in the years following, this look remained somewhat unchanged through the rest of production, which ended in 1964." [2]
Service Guides and Documents:
Jeep Dipstick Guide- Document provided courtesy of Michael Scoggins
[1] Excerpt from "Selling the All American Wonder - Vol. III"
[2] Source: "Jeep" by Jim Allen
Willys Jeep Truck Photos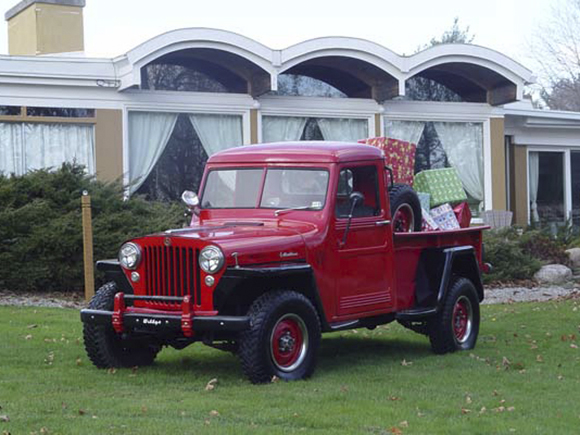 Fred Schreiner - 1948 Willys Truck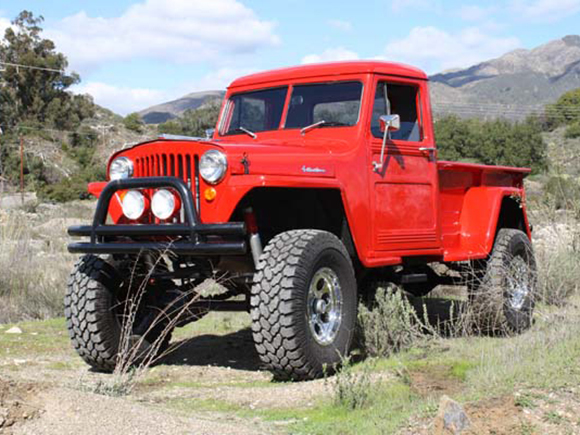 Gerry Rommel - 1949 Willys Truck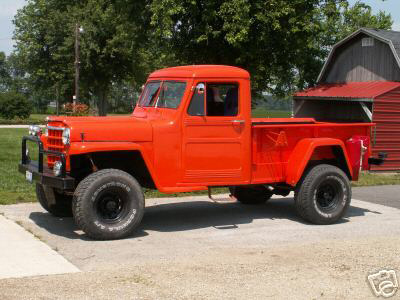 Chuck Robilio - 1950 Willys Truck
Joe Thompson - 1951 Willys Truck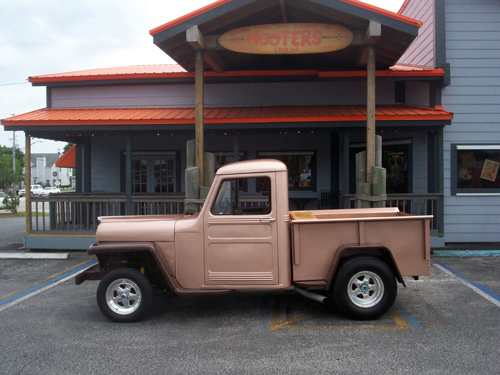 Raymond Taylor - 1952 Truck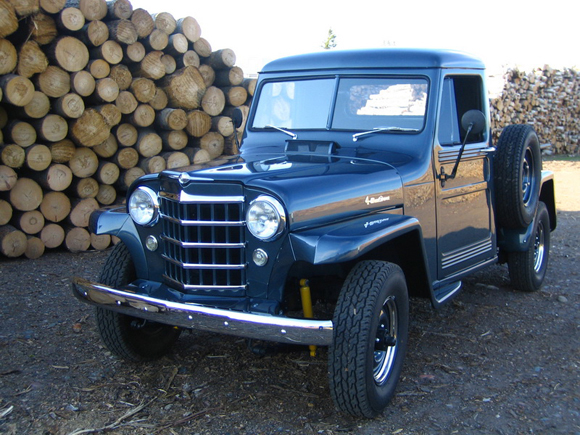 Scott Strudwick - 1953 Truck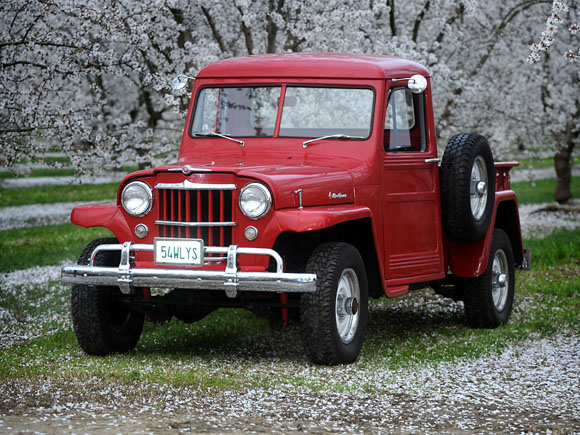 Dennie Farris - 1954 Willys Truck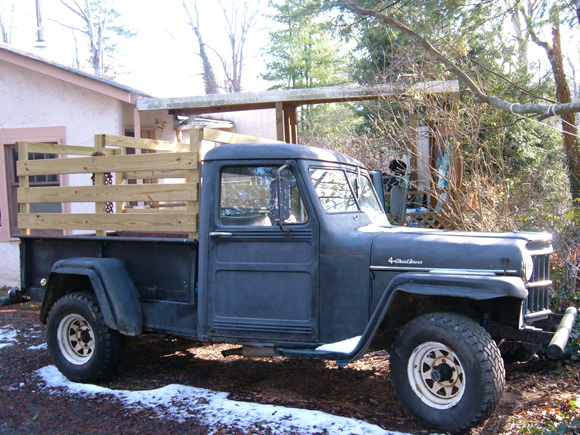 Chris Macklin - 1955 Willys Truck
Don Cowsert - 1956 Willys Truck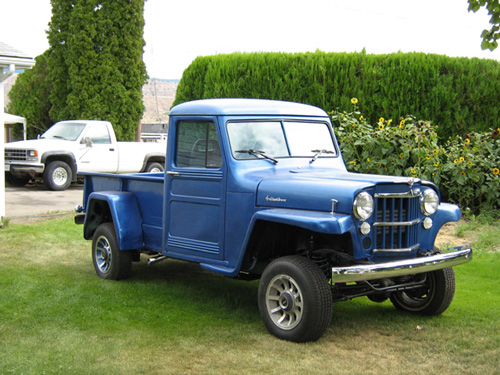 Al Coates - 1958 Willys Truck
Mark Reigle - 1959 Willys Truck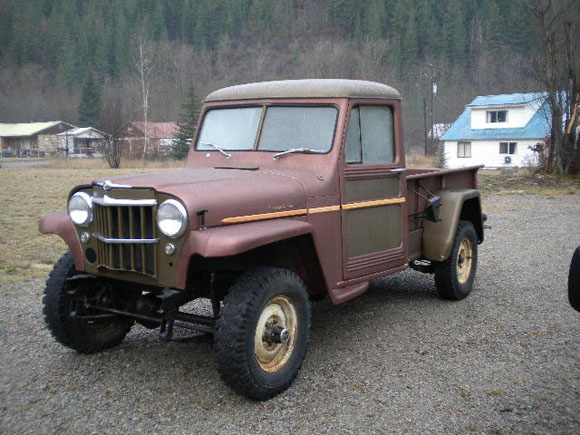 Jay Bernhardt - 1960 Willys Truck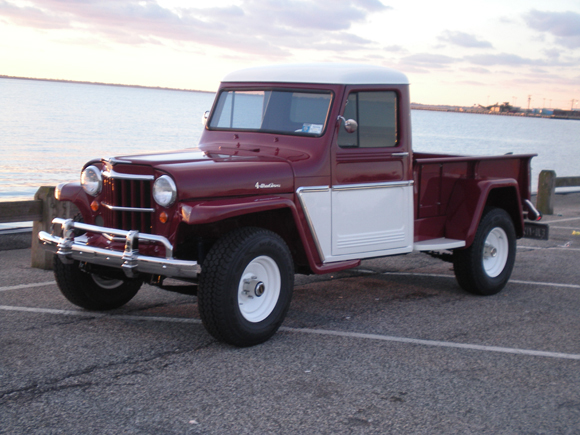 Steve Pace - 1961 Willys Truck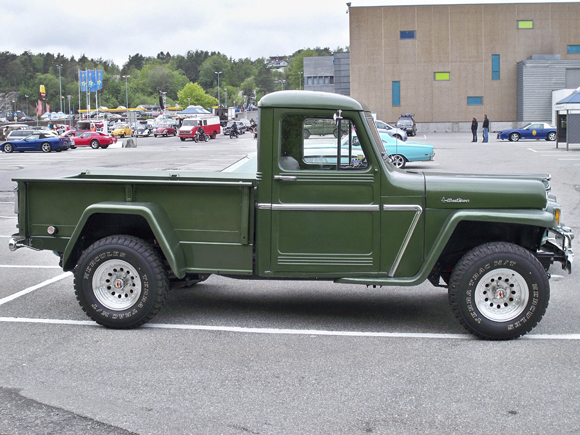 Audun Norbo - 1962 Willys Truck
Mark Dawson - 1963 Willys Truck
Juan R Jirau - 1964 Willys Truck
For more photos of these and other Willys Jeep Models, visit our Willys Jeep Blog Customer Photo Album!
Willys Jeep Truck Specs:
(2T, 4T, 473, 475, 6-226 including Pickup, Stake & Cab / Chassis, FFC)
Curb Weight: 3,100 lb (1,406 kg) to 3,300 lb (1,497 kg)
Length (overall): 183 3/4" (466,7 cm.)
Width (overall): 73" (185,4 cm.)
Height (overall): 74 3/8" (189,0 cm.)
Tread (Front): 57" (144,8 cm.)
Tread (Rear): 63.5" (162,0 cm.)
Fuel Capacity: 15 Gal.
Transmission: T-90 3 speed manual
Transfer Case: Dana 18
Front Axle: Dana 25 or Dana 27 (1961-71)
Rear Axle:
(1947-1954) - Dana 44 or Dana 53, 47-51 Optional Timken Rear Axle (clamshell style)
(1954-1964) - Dana 53
Wheelbase: 118 in (2997 mm)
Windshield: Split (1945-1960), Single Piece (1961-1964)
Willys Jeep Truck Engines:
4-134 L Head Motor (463) "Go-Devil"
Years Offered:
1947-1950 2T (2WD) and 4T (4WD) Willys Jeep Pickup Truck Models
Engine Type: L4-134 "Go-Devil"
Number of Cylinders: 4
Cubic-In. Displacement: 134.22 CID (2199.53 cc)
Horsepower: 60 hp (45 kW) @ 4000 rpm
Torque: 105 ft-lb. (142 N-m) @2000 rpm
Compression Ratio: 6:48:1
Valvetrain: L-head
4-134 F Head Motor(473)
Years Offered:
1950-1954 473 & 475 Models (Including Pickup, Stake & Cab / Chassis, FFC)
Engine Type: 134 CID (2.2L) F4-134 Hurricane 14
Number of Cylinders: 4
Cubic-In. Displacement: 134.2 cu. in. (2199,53 cm 3)
Horsepower: 72@4000 rpm
Torque: 114 lb-ft. (15,7 kg-m.)
Compression Ratio: 6.9 to 1
Valvetrain: F-Head
6-226 "Super Hurricane" 16 L Head Motor
Years Offered:
1954-1962 6-226 Models (Including Pickup, Stake & Cab / Chassis, FFC)
Engine Type: 226 CID (3.7L) 6-226 "Super Hurricane" 16
Number of Cylinders: 6
Cubic-In. Displacement: 226.2 cu. in. (3706,73 cm. 3)
Horsepower: 105@3600 rpm
Torque: 190 lb-ft. (26,3 kg-m.)
Compression Ratio: 6.9 to 1
Valvetrain: L-Head
Willys Jeep Truck Paint Colors:
See All - Paint Colors Offered by Willys-Overland from 1946-1963*
***Kaiser Willys cannot guarantee 100% accuracy of the colors or paint codes presented in this guide. When selecting a color for your vehicle, use the codes above as a starting point or reference, and work with your local paint supplier to find a color that works best for your budget and intent. There are several paint suppliers such as Auto Color Library, or Sherwin Williams, who may be able to cross-reference some of the older paint codes for you to find a more current formula, or if you are able to pull a painted piece off of your restoration project, they may be able to scan the color for you in the store to find a close match.
Forward Control 150 and 170
The Forward Control models were most ideal as work vehicles, whose use was intended for municipal and corporate workers, military applications, and in some instances, civilian use. The marketplace at this time was very competitive, and required diversification, exemplified by the large number of "Jeep approved" specialized bodies from outside suppliers. While the pickup box bed was standard, the FCs were fitted with a number of different bodies, including tow trucks, dump trucks, fire trucks, among others.
In 1956, the Willys Motor Company introduced the snub-nosed "Forward Control" model. It was powered by the familiar Jeep 75hp F-Head inline 4 and was equipped with nine forward and three reverse gear combinations. The selling points included larger pay load capacity with the cab moved up over the engine, increased visibility, put at 200% more than in conventional vehicles of comparable size, and the power and maneuverability of four-wheel-drive on an 81" wheelbase. In 1958, the FC-150 received a new, wider chassis. Its track was widened from 48" (120 cm) to 57" (140 cm).
In late 1957, the FC-170 came out at approximately 7,000 lbs. with a wheelbase of 103.5", and fitted with the 105hp "Super Hurricane" engine. Neither model was a big seller for Willys. The heaviest truck Willys ever produced was the FC-170 DRW, available with dual rear wheels in gross weight ratings of 8,000 pounds or 9,000 pounds.
Production of Willys Trucks and Station Wagons continued until 1965, by which time the company name had changed to the "Kaiser-Jeep Corporation", at which time the Forward Control model was discontinued.