About Willys Vehicles - Jeepster (VJ)
About Willys Vehicles - Willys Jeepster
Willys Jeepster (VJ)
History - (1948-1950) Willys Jeepster (VJ)
Willys Jeepster (VJ) Production Total: 19,132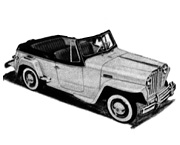 Willys Jeepster Illustration
The Willys-Overland Jeepster, borrowing features from both the Willys Station Wagon and Truck, attempted to bridge the gap between the "utilitarian" post-war Universal CJ Series, and the 1-ton "family-oriented" Station Wagons and 1/2 ton light-utility trucks. Following the end of WWII, the Willys-Overland company chairman recognized the importance of expanding its offerings to include a civilian passenger car, and with the help of industrial designer Brooks Stevens, presented a model more likely to appeal to younger market segments.
The original Jeepster (VJ) was first released to the public on April 3, 1948. Offered only in rear-wheel drive, the vehicle had some trouble gaining traction with traditional Willys customers. The 1948 Jeepster was powered by the "Go Devil" 62 hp, 134 cu in straight-4 engine, with 3-speed manual transmission (with optional overdrive), drum brakes, a single transverse leaf spring suspension and rear driveline similar to what was used in the Willys Station Wagon at the time. With rear fenders like those used on the Willys Truck, the Jeepster, while appreciated by design critics, but failed to translate accolades into real sales.
Still, the Jeepster was produced in the following year (1949), this time with the option of the six-cylinder Lightning L-148 engine, and in 1950, received a few modifications to the hood and grille. 1950 also offered new engine options for the VJ, including both the F-134 "Hurricane" engine and the L-161 "Lightning" engine. Unfortunately, due to lackluster marketing efforts, and competition in the passenger car market, the Jeepster was phased out completely in 1950, with a few leftover models sold under the 1951 model year, and was never produced again, though its design was revived in 1966 in the form of the Jeepster Commando (C101).
Service Guides and Documents:
Jeep Dipstick Guide- Document provided courtesy of Michael Scoggins
Willys Jeepster (VJ) Photos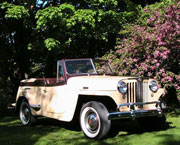 Barry Evans - 1948 Jeepster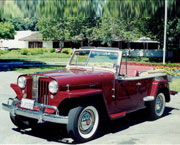 Jim Rogers - 1949 Jeepster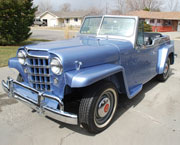 Duane Demars - 1950 Jeepster
For more photos of these and other Willys Jeep Models, visit our Willys Jeep Blog Customer Photo Album!
Willys Jeepster (VJ) Specs (1948-1950)
Weight: 2,468 lbs. (4-cyl) and 2,392 lbs. (6-cyl)
Length (overall): 174.8"
Width (overall): 69"
Height (overall): 62"
Tread, front/rear: 55.5/57.0
Transmission: T-96 (optional overdrive)
Front Axle: Planar Suspension (one leaf spring in front)
Rear Axle: Dana 23
Wheelbase: 104"
Steering Type: Ross cam and lever
Suspension:
(Front): Independent upper A-arms, Single transverse leaf spring
(Rear): Semi elliptic leaf springs, Torsional stabilizer bar
Willys Jeepster Engines:
4-134 L Head Motor (463) "Go-Devil"
Years Offered: 1948-1949 Jeepster
Engine Type: L4-134 "Go-Devil"
Number of Cylinders: 4
Cubic-In. Displacement: 134.22 CID (2199.53 cc)
Horsepower: 60 hp (45 kW) @ 4000 rpm
Torque: 105 ft-lbf (142 N-m) @2000 rpm
Compression Ratio: 6:48:1
Valvetrain: L-head
4-134 F Head Motor(473)
Years Offered: 1950-1951 Jeespter
Engine Type: 134 CID (2.2L) F4-134 Hurricane 14
Number of Cylinders: 4
Cubic-In. Displacement: 134.2 cu. in. (2199,53 cm 3)
Horsepower: 72@4000 rpm
Torque: 114 lb-ft. (15,7 kg-m.)
Compression Ratio: 6.9 to 1
Valvetrain: F-Head
6-148 "Lightning" L Head Motor
Years Offered: 1948-1948 Jeepster
Engine Type: 6-148 L Head Motor
Number of Cylinders: 6
Cubic-In. Displacement: 148 in (3) (2.4 l)
Valvetrain: L Head
6-161 "Lightning" F Head Motor
Years Offered: 1950-1951 Jeepster
Engine Type: 6-161 F Head Motor
Number of Cylinders: 6
Cubic-In. Displacement: 161 in (3) (2.6 l)
Valvetrain: F Head
Willys Jeepster (VJ) Paint Colors:
Paint Colors Offered by Willys-Overland from 1948-1949*

Autumn Brown Poly
DQE-20305-DAL*

Black
DQE-9000-DAL*

Clear Maple
DQE-20243-DAL*

Emerald Green
DQE-40530-DAL*

Fiesta Yellow
DQE-80365-DAL*

Harbor Blue Poly
DQE-10083-DAL*

Luzon Red
DQE-70028-DAL*

Mahogany Brown
DQE-20422-DAL*

Michigan Yellow
DQE-80232-DAL*
Normandy Blue
DQE-10277-DAL*

Pacific Blue Poly
DQE-10516-DAL*

Pine Green Poly
DQE-40414-DAL*

Potomac Gray
DQE-30604-DAL*

Shasta Green
DQE-40603-DAL*

Sportsmans Green Poly
DQE-40642-DAL*
Tunisian Red
DQE-50127-DAL*

Universal Beige
DQE-80364-DAL*
Paint Colors Offered by Willys-Overland from 1950-1951*
Beach Sand
DQE-20664-DAL*

Bermuda Blue
DQE-10432-DAL*

Black
DQE-9000-DAL*

Campus Red
DQE-70342-DAL*

Canyon Glow
DQE-50232-DAL*

Cherokee Red Poly
DQE-50258-DAL*

Chesapeake Gray
DQE-30746-DAL*

Copper Bronze Poly
DQE-20699-DAL*
Cyprus Green Poly
DQE-40978-DAL*

Desert Beige
DQE-20202-DAL*

Hampshire Green Poly
DQE-40579-DAL*

Horizon Blue
DQE-10794-DAL*

Mediterranean Blue Poly
DQE-10450-DAL*

Midnight Cloud Poly
DQE-30382-DAL*

Nassau Cream
DQE-90486-DAL*
Shadow Gray Poly
DQE-30293-DAL*

Surf Gray Poly
DQE-30639-DAL*
See All - Paint Colors Offered by Willys-Overland from 1946-1963*
***Kaiser Willys cannot guarantee 100% accuracy of the colors or paint codes presented in this guide. When selecting a color for your vehicle, use the codes above as a starting point or reference, and work with your local paint supplier to find a color that works best for your budget and intent. There are several paint suppliers such as Auto Color Library, or Sherwin Williams, who may be able to cross-reference some of the older paint codes for you to find a more current formula, or if you are able to pull a painted piece off of your restoration project, they may be able to scan the color for you in the store to find a close match.