About Willys Vehicles - M38
About Willys M38
History and Technical Specs
(1950-1952) Willys M38
Production Total: 45,473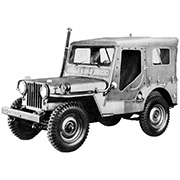 Illustration - Willys M38
In 1950, Willys introduced the M-38 (identified as an "MC" by Willys), a post-WWII Jeep based on the CJ-3A and fitted will military-specific features, including a one-piece foldable windshield, bottom-mounted wipers, a pintle hook for towing, lifting shackles, and a fuel filler on the drivers side. Pioneer tools (axe and shovel) were mounted on the passenger side, and larger tires were used (7:00x16) along with a waterproof electrical system, requiring a second battery. The M38 suspension and frame were stronger than that of its civilian sibling (the CJ-3A) and had a full-floating rear axle.
Other distinctive features of the M38 include protruding headlights (with guard wires in front), an air vent in the base of the windshield, blackout lights and notches for various tools. The M38 did not have an outside step (included on the CJ-3A), in order to improve ground clearance. A few M38s were equipped with Ramsey winches (with a net weight of 2,745 lbs). Other M38s were outfitted with wading equipment and a special breathing apparatus to allow for fording in streams. A few M38 jeeps were set up for light dozing and leveling (although a find like this would be rare) with hydraulically-controlled blades. Winterization packages for the M38 included a hard top, all metal enclosure.
"The instrument panel of the M38 was an exercise in simplicity, just as its predecessors had been. The instruments were clustered in the center with external lighting, with the dataplates to their right, and a glove box at the extreme right. To the left were the choke and throttle, with the light switch just left of the steering column, and at the far left the parking brake handle was mounted in the dashboard." [1]
The M38 continued in production until 1952, when the M38-A1 became the "standard" model of military service, until it went out of production in 1957.
[1] Excerpt from "Selling the All American Wonder - Vol. III"
More Useful Information about the M38:
M38 Data Sheet 1 - Document provided courtesy of Michael Scoggins
M38 Data Sheet 2 - Document provided courtesy of Michael Scoggins
Gulf Service Sheet (1945-1964) - Document provided courtesy of Michael Scoggins
Jeep Dipstick Guide - Document provided courtesy of Michael Scoggins
Willys M38 Photos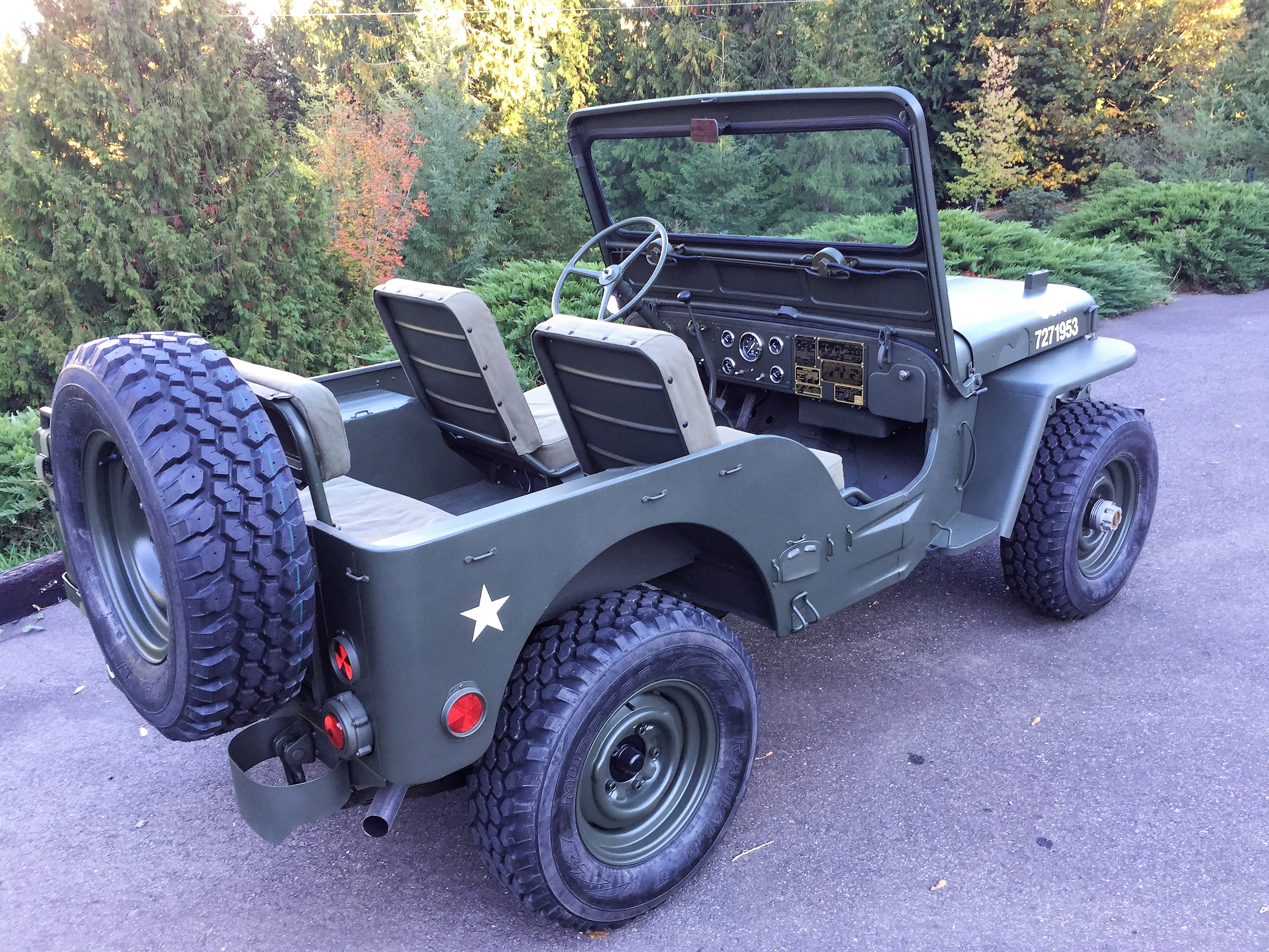 Bill Preston - 1952 M38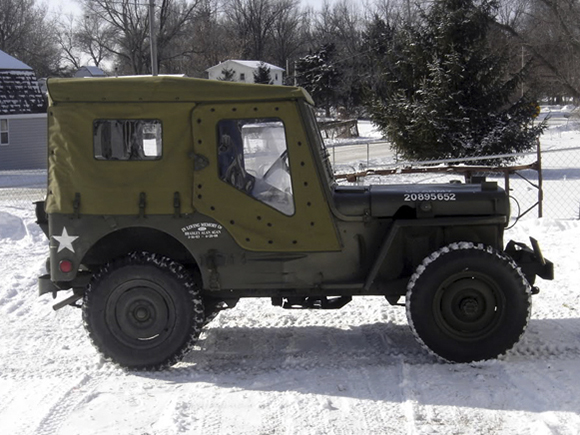 Bruce Blagan - 1951 M38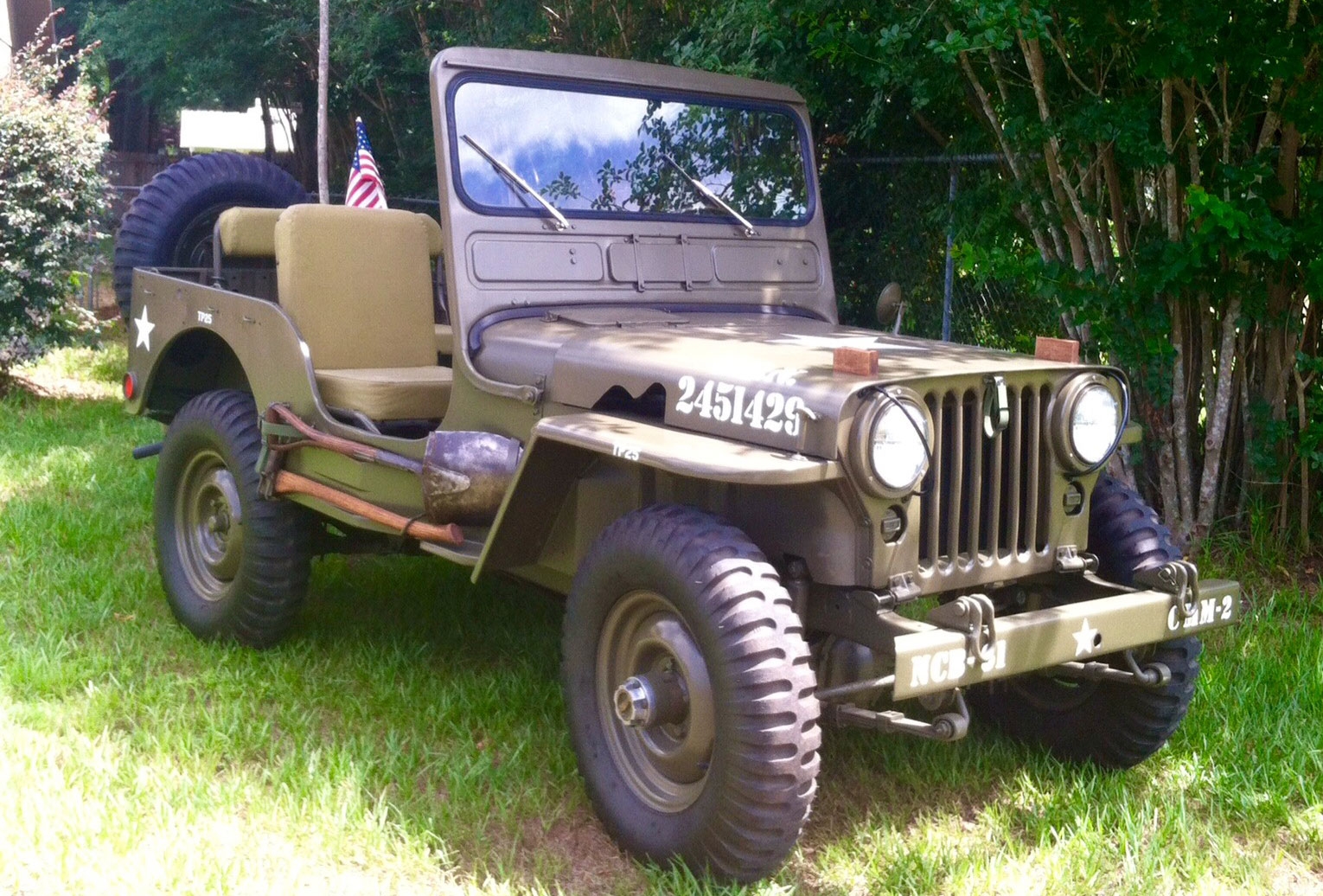 Edward Floyd - 1950 M38
For more photos of these and other Willys Jeep Models, visit our Willys Jeep Blog Customer Photo Album!
Willys M38 Specs (1950-1952)
Weight: 2750 lb. (Gross: 3950 lb.)
Length (overall): 133"
Width (overall): 62"
Height (Top Up): 74"
Ground Clearance: 9 1/4"
Tires: 7:00x16
Transmission: T-90
Transfer Case: Dana 18
Front Axle: Dana 25
Rear Axle: Dana 44
Wheelbase: 80"
Other: 1 Piece Windshield, 24 Volt Electrical
Willys M38 Engines:
Engine: 4-134 L Head Motor (463) (All Years)
Engine Type: L4-134 "Go-Devil"
Number of Cylinders: 4
Cubic-In. Displacement: 134.22 CID (2199.53 cc)
Horsepower: 60 hp (45 kW) @ 4000 rpm
Torque: 105 ft-lb. (142 N-m) @2000 rpm
Compression Ratio: 6:48:1
Valvetrain: L-head