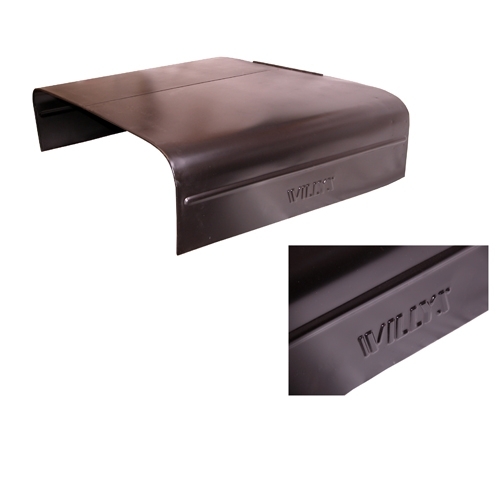 Questions & Answers
I bought one of these along with a repro tub from Kaiser Willys. When closed the hood rubs on the cowl no matter how it's adjusted. The width of the hood in the rear is just too narrow. I'm wondering if Kaiser Willys has any suggestions on how to correct this problem, as it rubs off the paint on both the hood and the cowl.
Willys Jeep Parts Tech:
Please give us a call and ask for Mike M. Thank you!
I have 61 cj5 and it has the triangle shaped hole on the passenger side I'm assuming was for a snorkel ! Is there a filler pease for that hood or do I have to buy a new hood ? I kinda like look of it filled in.
Willys Jeep Parts Tech:
Send me a photo so we can confirm what you have there.
We are working on a 1963 Jeep CJ-3B. The serial # 8105 125008 suggests it is a 1964. Just making sure this hood will fit. It looks like it will.
Willys Jeep Parts Tech:
Please email mike@kaiserwillys.com some pictures of your Willys and we can confirm. Thanks!
My 1951 m38 willys has a replacement F 134 engine and the factory hood isn't high enough to accomodate the engine. Will the CJ3B engine hood mate with the 1951 m38 frame just below and in front of the cab or is the CJ3B hood too high to line up with the m38 frame or attach to the m38 frame at the rear of the hood?
Willys Jeep Parts Tech:
That hood really wont mate up due to the cowl height. Alot of people cut holes in their hood to make room for the carb.
Do you know if the word ´´Willys´´, which is stamped on the grille, sides of the hood and the tailgate, is originally in the CJ3B of the same color of the vehicle?
Willys Jeep Parts Tech:
They were typically the same color from the factory. I personally like to 2 tone.
Is this hood DMC681334 , equipped with the hinge attached?
Willys Tech:
Yes the hoods have the hinges on them.
Did the original hoods all have Willys stamped on them? My 53 does not and I'm trying to figure out if it is a replacement or not. Thank you.
Willys Tech:
Yes, the CJ-3B was originally stamped Willys.
where do i sell an old hood orig rusty but ok
Willys Tech:
This is your best option. Most used hoods are pretty dinged up and in poor shape. This one is brand new!
WHAT IS THE HEIGHT AND LENGTH DIFFERENCE OF THE CJ3A AND CJ3B?
Willys Tech:
I dont think there is a length difference but the height difference is a few inches for sure. They went to the 'high hood' to accomodate the overhead valve 'F' head engine.