Willys MB Field Guide, Kaiser Willys Catalog - Request Catalog Copy or Download
Technical Specifications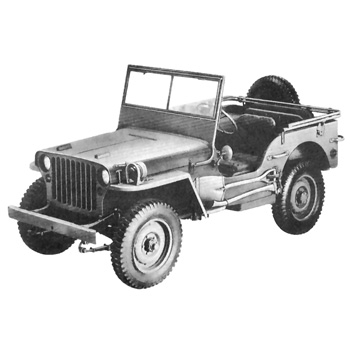 Length: 132 1/4" (335,91 cm.)
Width: 62" (157,48 cm.)
Height: (Top Up): 69 3/4" (177,16 cm.)
Height: (Top Down): 52" (132,08 cm.)
Tire Size: 6.00-16, 30 psi
Electrical: 6 Volt
Transmission: 3 speed T-84
Transfer Case: 2 Speed Dana 18
Front Axle: Dana 25
Rear Axle: Dana 27
Wheelbase: 80" (203 cm.)
Other: 2-Piece Windshield, No Tailgate
Engine: 4-134 L Head Motor (463) (All Years)
---
Serial Number Location(s):
Passengers side of dash (stamped on military data plate). Stamped on upper left chassis rail between the gusset and bumper.
Engine Number Location:
Stamped on a outcropping (boss) on the right front of the engine block behind the water pump.
Vehicle Identification
Main Identifying Characteristics:
Flat front fenders, 9 slot stamped grille, rectangular 2-piece (split) outward-pivoting windshield, split combat wheel, blackout lights, machine gun mounting plate, front axle mounted pivot arm, spindle arms are separate from the spindle housing, tilting headlights, fuel filter under drivers side seat, no tailgate, hand-operated windshield wipers, pioneer tool (axe & shovel) indentations on the drivers side.


Model Differences: Willys MB
- Tubular arched front crossmember
- Rear shock brackets are "open" channel type
- Solid tool box lid
- Early models had "Willys" emblem


Model Differences: Ford GPW
- U-channel front crossmember
- Rear shock brackets are two pieces welded together ("closed" type)
- Tool box lid is embossed
- Early models stamped with "Ford" emblem