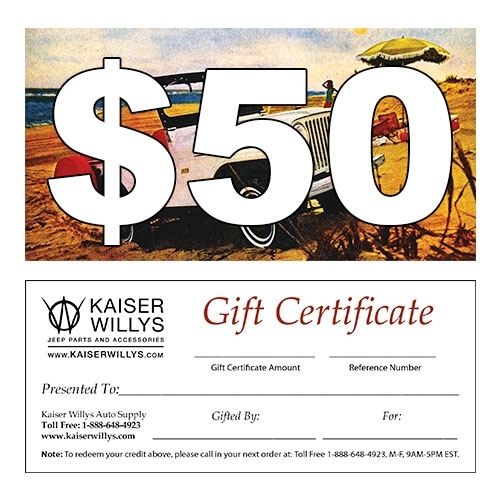 $50 Gift Certificate to Kaiser Willys
Part # GIFTCERT-50
$50 Gift Certificate
Great gift for any occasion.
Questions & Answers
Hi. I'd like to buy gift certificates in different denominations than shown. Can I get them in different amounts?
Willys Tech:
Sure. Please call us toll free and we can do it.
Do your gift certificates expire?
Willys Tech:
No, they never expire and are good anytime.
Can you print gift certificates at home
Willys Tech:
Yes no problem. Once you purchase a gift certificate it is available for immediate use. You just need to call in your order over the phone and have the order number of the gift certificate and we can apply it for you.
YOU MIGHT ALSO BE INTERESTED IN