53-64 CJ-3B General Specs
CJ-3B Field Guide, Kaiser Willys Catalog - Request Catalog Copy or Download
Technical Specifications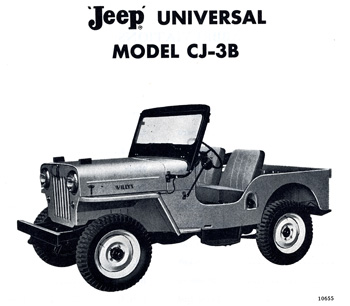 Length: 129 29/32" (3,30 m.)
Width: 59" (149,8 cm.)
Height: (overall): 66 1/4" (169 cm.)
Tire Size: 6.00-16, Front 26, Rear 28 psi
Electrical: 6 Volt, after 1957 12 Volt
Transmission: 3 speed T-90
Transfer Case: 2 Speed Dana 18
Front Axle: Dana 25
Rear Axle: Dana 44
Wheelbase: 80" (203 cm.)
Other: 1-Piece Windshield
Engine: 4-134 F Head Motor (All Years)
---
Serial Number Location(s):
Inside engine compartment on the upper passengers (right) side firewall.
Engine Number Location:
Stamped on a outcropping (boss) on the right front of the engine block behind the water pump.
Vehicle Identification
Main Identifying Characteristics:
High hood, new-style grille to accommodate the overhead valve Willys F-Head motor, flat front fenders, one-piece windshield with shorter front frame panel, spare tire mounted on rear passeners side, no glovebox, parking brake pull lever mounted in middle of the dash.
Model Differences by Year:
1957 the 12-volt electrical system was introduced.