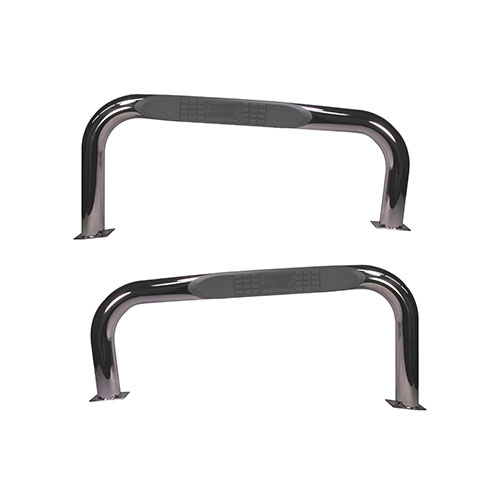 3 Inch Round Side Tube Steps in Stainless
Fits 76-86 CJ-7
Part # 11593.02
Rugged Ridge 3" Round Side Tube Steps in Stainless Steel

Whether you want to dress it up flashy or keep it subtle, Rugged Ridge has a tube step style just for you. Why settle for only one tube style when Rugged Ridge offers so much more? Complete the look with a set of Rugged Ridge tubular tough duty side steps. The 3" design provides a much cleaner look not dwarfed by oversized tires and fender flares.

Features:
Rugged Ridge Stainless Tube Steps feature prime 304L, .05" wall stainless tubing polished to a mirror finish. The polishing process for a Rugged Ridge step is longer and deeper pulling out the deepest shine from the steel. A true "deep polish"!

All Rugged Ridge Tube Steps installation brackets constructed of durable 3/16" powder coated steel for long life and years of flex- free use.

Each Tube Step features special UV treatedno-slip step pads with 5 mounting pins. These step pads are installed on top of the tube - no exposed metal to rust.

Fits:
76-86 CJ-7

Note:
Sold as a pair and includes all necessary installation hardware.
Questions & Answers
No questions yet. Be the first to ask a question!
YOU MIGHT ALSO BE INTERESTED IN